---
Chef Derrick welcomes you to The Table.
A trained chef with a passion for fresh, local Prince Edward Island ingredients, Chef Derrick is the new owner of The Table (formerly Annie's Table), New London's award-winning culinary studio. Founded in 2012 by Annie Leroux, the studio focuses on experiential cuisine created with foods grown and harvested right here on PEI. Dining, cooking classes and hands-on experiences at The Table have resulted in international press recognition for bringing local history, food and culture together.
The philosophy behind The Table is one of gathering people together in the kitchen and around the dining table to experience fine food, community and laughter. The goal is to inspire you to bring that experience to friends and family and share it with them.
Join Chef Derrick in celebrating this new chapter in the history of The Table as he builds on the foundation prepared by Annie Leroux.
Contact us today for more information about dining, culinary experiences and private functions at The Table.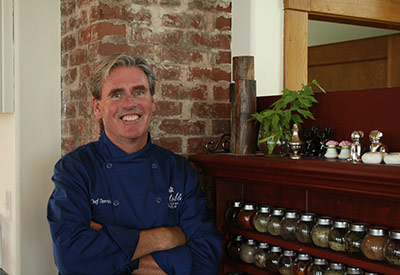 YOUR HOST CHEF DERRICK
Find EVENTS and CLASSES for a selected date.
"It's been my dream to have people enjoy and share my passion for food and Island culture. The Table just seemed to be the right place to do that."