---
About Us
Who we are
The Table is New London's award-winning culinary studio with a focus on hyper-local experiential cuisine. The winner of the 2017 Taste Our Island Award, The Table is dedicated to using and promoting the local foods grown and harvested right here on Prince Edward Island while honouring the culture and history of the Island. All of our meals feature fresh seasonal local ingredients prepared daily by our Executive Chef Hunter Guindon and served in the welcoming and beautiful setting of our renovated rural church.
We believe in celebrating Prince Edward Island's unique and ever-changing bounty. We strive to always serve the best ingredients that our island has to offer and you can be certain that our menus will always feature the fish, meat, foraged food, and farm fresh crops from Prince Edward Island's skilled producers.
This is Island dining at it's best! With only 27 seats available each evening at a single-seating, enjoy the comfortable feeling of community as new friends and old gather together at private tables around the dining room to enjoy a meal of rural elegance.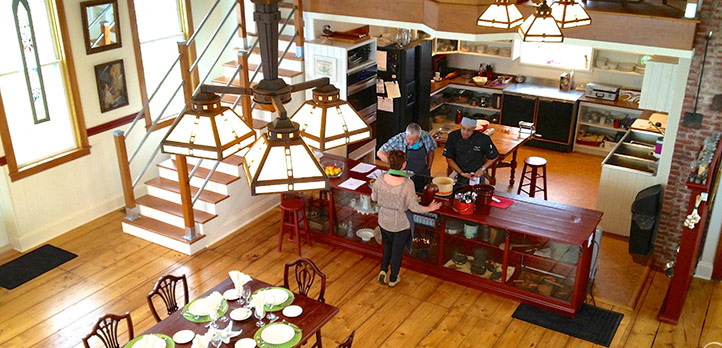 The Venue
As you walk through the doors of The Table Culinary Studio, your senses are immediately engaged. The essence of community fills our old church, alive with a history of events that brought people together within its walls. What better place to congregate and share in a unique culinary experience than a space that was created for the gathering of family and friends?
The former New London United Church that now houses The Table Culinary Studio was built in 1953 through the generous donations of its members and supporters. In recognition of that community commitment, every effort has been made to preserve the building's distinctive architectural features and to honour its origins, creating an enchanting setting.
Exposed trusses and streams of natural light radiating through stained glass windows establish a leisurely atmosphere of relaxation. The original pulpit built by Marshall Constable has been incorporated into the new upper level of the building, providing a focal point for speakers addressing guests at private functions. Our 12-foot long harvest table was built by local artisan Todd Woodside using 140-year-old attic boards salvaged from a nearby home. A custom-built spiral staircase leads up to the church tower and a cozy Cookbook Nook for a quiet moment or conversation. The side garden is home to our outdoor cookhouse, affectionately called "The Sideboard", it is the hub of our outside experiences where you can take in the pastoral landscape view that must be seen to be fully appreciated – a panorama for photographers and artists.
Be sure to visit our Experiences sections for more info.
Your Experience
Prince Edward Island is known for its gentle, friendly atmosphere, where family traditions remain alive and well. Our Island is a place where friends and family continue to gather around the kitchen table regardless of reason, regardless of season. That sense of gathering and belonging is what we strive to achieve when you visit us.
At our intimate Island dinners, we'll introduce you to the bounty of our local North Shore food community. The food that is served a The Table is typically organically farmed, pasture-raised and fished by friends of ours from within a 15 minute drive and is often picked by Chef Derrick himself for the evening meal. Our open concept kitchen allows you to watch the Chefs as they prepare your meal and enjoy the welcoming atmosphere of the unique setting.